I came across the "college liberal" meme today and this instance blew my mind: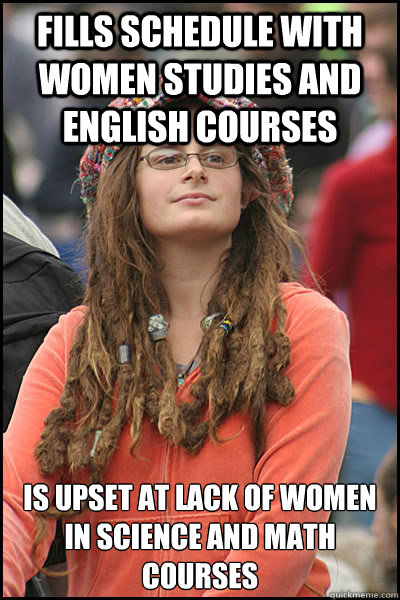 It's absolutely right. If you are unhappy about the lack of whatever-minority-you-are in whatever-positions-of-power-minorities-aren't-in (science, business, politics, etc.), you have an obligation to try to gain power. If you feel like you personally aren't suited for particular positions of power (eg: you don't like science or math), you need to realize that you've been socially conditioned to be that way and accept that that's the full explanation for why minorities aren't in power. It's no mere conspiracy theory.
This is a post-feminist argument: women aren't in positions of power because women don't like gaining power; if you want to gain power, be less womanly.
Maybe rather than fighting against your social conditioning yourself, you think your energy would best be spent overthrowing our societies conditioning? That's like becoming an intellectual with the intent of leading the revolution. In socialism, a revolution lead by intellectuals is known as "socialism from above" and resulted in Stalinism. Lenin was in favour of "socialism from below" – a revolution lead by workers, which recognized intellectuals as no more helpful than bourgeoisie. So maybe rather than get that degree you should go organize a union at Walmart?
Personally, I don't believe that social conditioning in general can be overthrown. So your only hope is to crave out little niche situations that make you happy. Maybe a Women's Studies degree is good for that?